Howdy, lotos forming
How to choose your roll forming machine?
HOW TO CHOOSE A ROLL FORMER
Roll forming is a continuous bending method in which a long tape of sheet steel is passed via rolls mounted on successive stands, each set executing only an incremental part of the bend, till the preferred cross-part profile is obtained. Roll forming is perfect for generating continuous-profile components with long lengths and in big quantities.
Pre-cut vs post-cut roll forming machine: There are two different types of roll forming machines, a Pre-Cut roll forming machine, and Post Cut roll forming machine. There are advantages as well as disadvantages to both.
Advantages and disadvantages
Pre-Cut roll forming machine
Pre-cut advantages:
remove costly cut-off dies and their maintenance
Simple low-keeping pre-cut shear
Ability to hand-feed strips or sheets for low-volume production
In roofing and wall panel products, pre-cut avoids cut-off distortion
Pre-cut disadvantages:
need more forming stations making the roll former and tooling more expensive
need more floor space
Difficult multi-bend parts
Pre-cut may require intermediate guides, especially when running short pieces.
Advantages and disadvantages
post-Cut roll forming machine
POST-CUT PROS
The production rate is higher with post-cut.
Better part control in terms of quality.
Better results for high-strength steels.
Lengths as short as 2 into 3 can produce.
Ability to provide punching/notching during the cut-off operation.
POST-CUT CONS
Expensive cut-off press and die.
Maintenance costs, especially for the cut-off die.
Distortion on product end.
Before investing in roll forming equipment, shops should select a manufacturer that can provide them with leading-edge designs and cost-effective solutions to satisfy any of their metal roll forming project needs. in fact, LOTOSFORMING is a leading roll forming industry in China for design roller and roll forming machines for other cooperators. We may build up the future altogether. Two basic types of roll forming systems are utilized: a pre-cut line and a post-cut line. certainly, a pre-cut line snips the incoming material to a specific length prior to roll forming. also, During post-cut line operation, the roll-formed panel runs continuously after roll forming. you want to know Pre-cut vs post-cut roll forming machine please study this article.
Howdy, lotos forming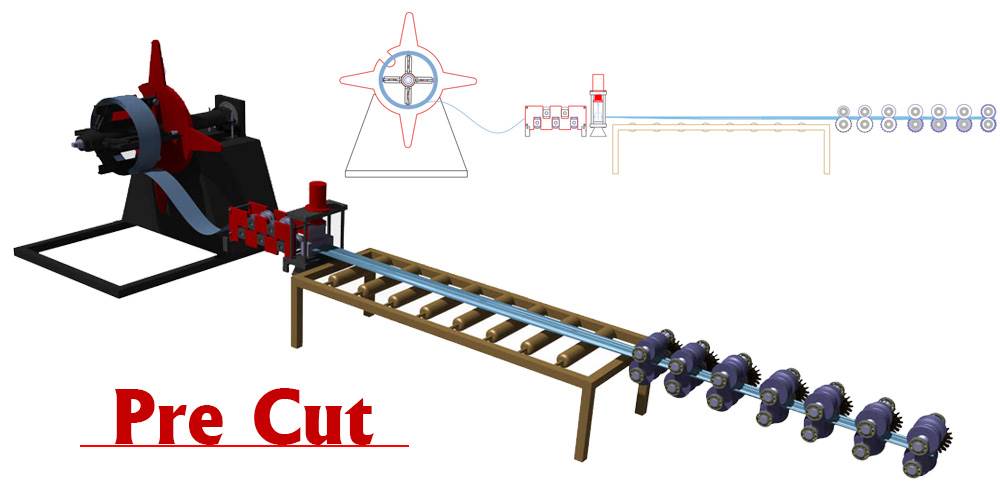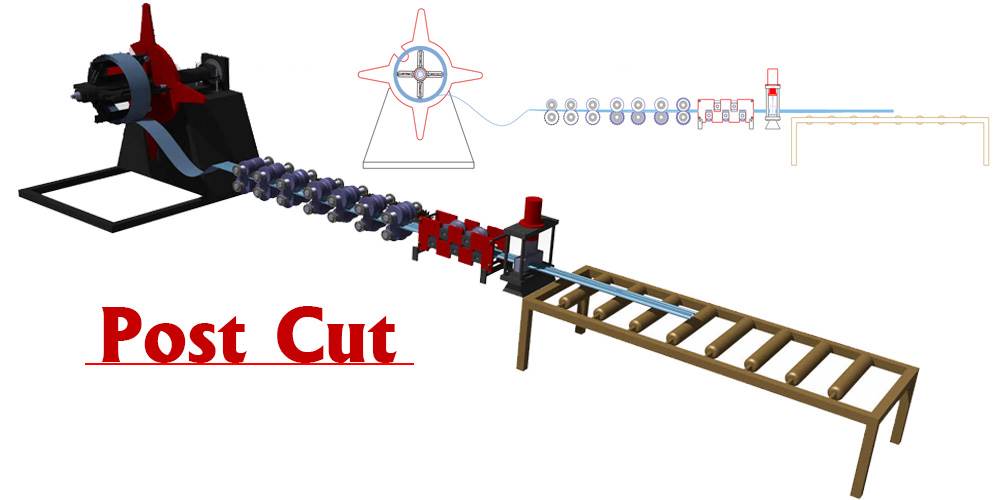 Roll Forming Machine Cutting Method:
Different cutting for the different profile on the Rollforming machine including:
1. Cold cutting saw adjustable cutting angle
2. Cold gear saw for some close type with a low thickness profile
3. This hydraulic waste cutting
4. Laser or plasma cutting is used for welding tube
5. Hydraulic bending and cutting mold
6. 45-degree cutting left and right side it mostly uses for door and windows frame
7. servo tracking hydraulic cutting
in fact, We help you to choose a suitable cutting method according to the roll forming processing according to production requirements.