How to adjust the rollers of the roll forming machine?
Adjusting the gap between rollers, Roll Forming Machines are flexible and continuous processes. It has been proven several times that the roll forming machine does roll forming tasks which even seemingly impossible. though it may take a longer time and much more money. it also showed that plans to roll form simple shapes can create disastrous results. If the designer doesn't follow the basic rules of roll forming.
Rollers are one of the main components of the roll forming machine. In practical terms, rollers manufacturing must be hardly precise. The deviations of roundness or eccentricities of a very low order will have great implications in part quality.  And the surface quality must be extremely high due to contact and lubrication issues. As usual, rollers are split into several sections for ease of manufacturing. In fact, there are instances where this is the only possibility and also allows for easier installation.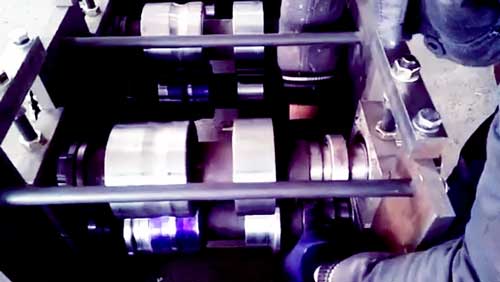 in this page you can learn all thing about:
Roll Forming Machine Rollers
how to lose shaft and move space sleeve in roll forming machine
How to adjust the rollers of the roll forming machine
How to Change Spacer Multi-Profile of the roll forming machine
Spacer change for multi-profile roll forming machine
Change size by change spacer for roll forming machine
How to Change Roller Spacers of Roll Forming Machine for Different Profile
How to adjust the roller mold width
Roll Forming Machine Rollers
Between the rollers are spacers, which will reduce the cost of the mill. And easy to adjust to produce a different desired profile with split spacers. After confirming the total length of the rollers. It requires less expensive spacers to fill the space between the rollers. The spacers usually produce by seamless pipes.
The max and min length of the spacers limit by the space of the rollers. and length tolerance is very important. the inner diameter of the spacers should be a bit larger than the outer diameter of the shafts. most frequently used spacers make out of one piece, and some times we also use Split Spacers. The split spacers can reduce the roller change over time of various width profiles. Instead of removing the nuts from the end of the shaft, pulling out the roll forming stands, rollers, and also the spacers.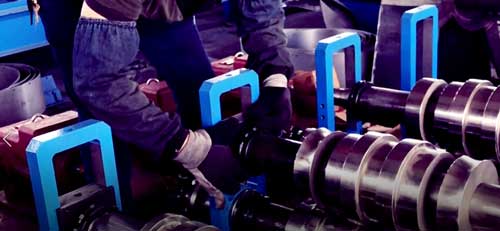 Read More